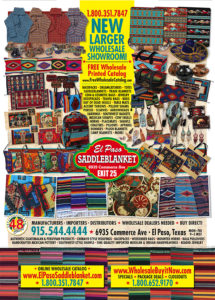 At El Paso SaddleBlanket, we carry many items with a western theme and southwestern theme as well. Our products consist of blankets, scarves, sombreros, pottery and more.
A massive variety of items which can be used as gifts and souvenirs. Call or logon to our website for full list of offerings.
Toll Free: 800-351-7847
Toll Free: 800-652-9170
Phone: 915-544-4444
www.elpasosaddleblanket.com
www.wholesalebuyitnow.com
Address
El Paso Saddle Blanket
6935 Commerce Ave.
El Paso, TX