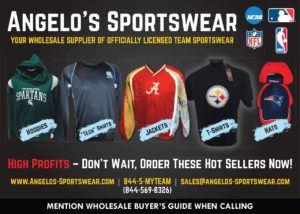 Angelo's Sportswear
A complete line of apparel from all sports categories and teams. You are sure to find your favorite team here so you can show your pride…We won't be beat.
Phone: 844-5-MYTEAM ( 698326 )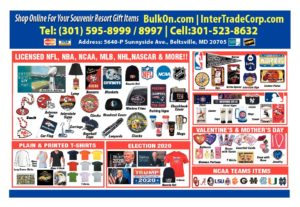 The most variety when it comes to sunglasses, jewelry, scarves, socks and the latest in fashion trends. We always have the latest styles to choose from. Discount apparel for men, women, and children. The hottest in fashion accessories for the whole family to choose from to make everyone happy. Our quality sourcing ensuress Call us for pricing!
Phone 301-595-8999
Fax: 301-595-8996
Address: 10150 Bacon Drive Beltsville, MD 20705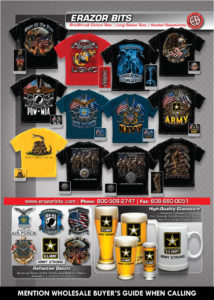 We carry t-shirts with military themes as well as law enforcement & public safety. Also check out our bar glasses!
Phone: 800-506-2747
Fax: 609-660-0051